We are meeting in person!
Here are a few details that you need to know
SUNDAY MORNING SERVICES (10:30AM)
Main services are meeting at 10:30AM in the sanctuary.
Nurseries (8 weeks - 3 years old) are OPEN.
Kid's Church (4 - 11 years old) is OPEN.
SUNDAY SCHOOL (9:30AM)
Nurseries (8 weeks - 3 years old) are OPEN.
Pre-K - Kindergarten will join 1-2 Grade class
All other classes are scheduled/located as normal
WEDNESDAY NIGHT SERVICES
Nurseries are UNAVAILABLE at this time.
Children's classes will relocate to Adult Bible Class Room
Youth services will relocate to FLC Gym
Main Adult Service will meet in the Parlor Room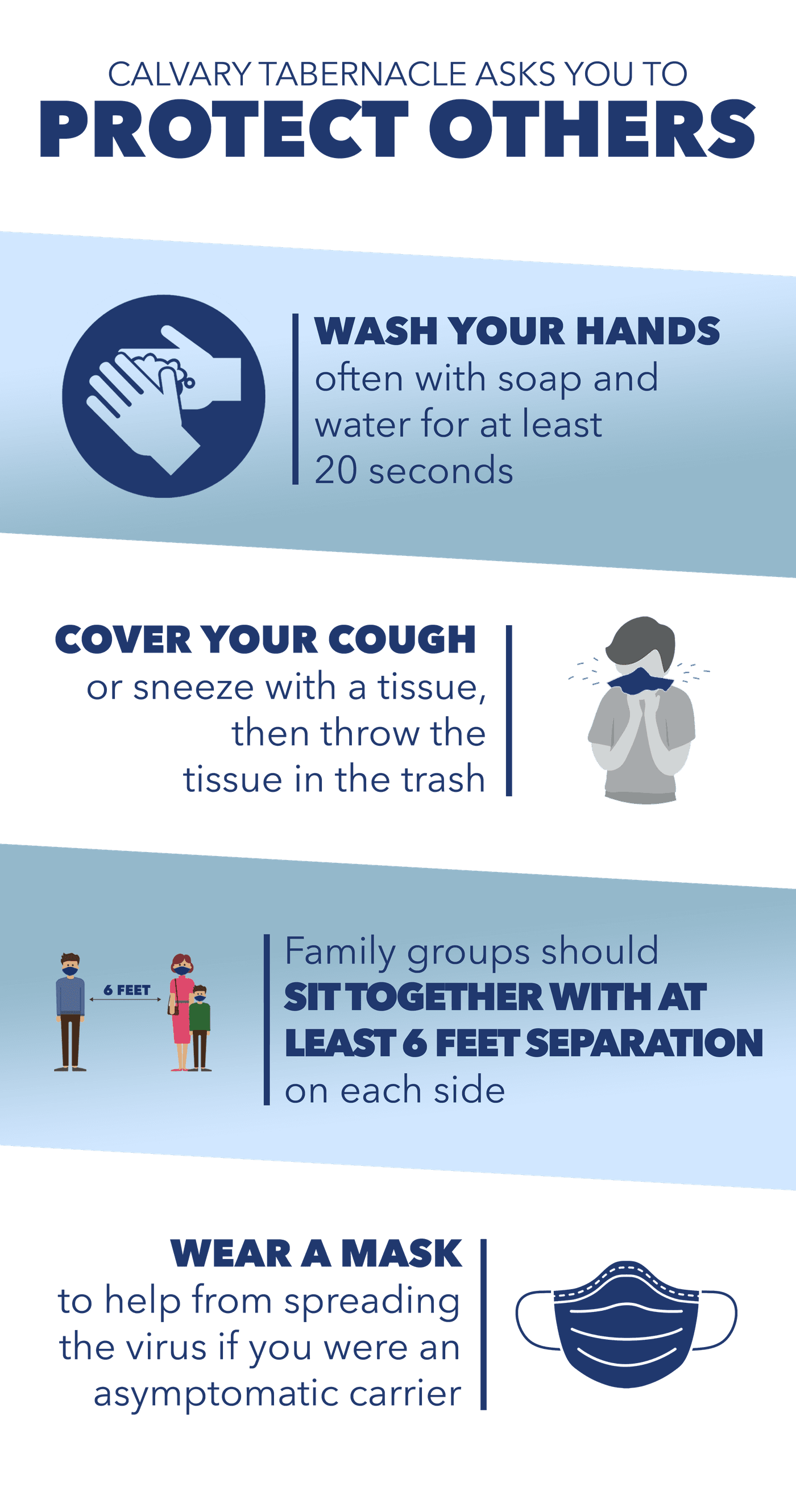 We are asking that everyone does their part to maintain social distancing (at least 6 feet apart).
All family members must sit together during service and have 6 feet of empty space between family groups.
You will only be able to enter our facilities through the MAIN ENTERANCE.
We are kindly asking that you refrain from hugging and shaking hands. We know, we don't like this either...
Please consider wearing a mask to all of Calvary Tabernacle's services.
Please wash or sanitize your hands often, especially when entering the building for the first time.
We will have a section of pews reserved for our at-risk population (those who are 65 or older, especially those with chronic lung disease; moderate to severe asthma; chronic heart disease; severe obesity; diabetes; chronic kidney disease undergoing dialysis; liver disease; or weakened immune system). It is not required that an at-risk person sit in this section, but it will be available if you choose to!
No reservations of our facilities for events may be made at this time.
Here are a few ways that Calvary is protecting you
Hand sanitizer will be available throughout our buildings.
Tithes and offerings can be dropped in our offering boxes located at the back of the sanctuary - or you can give online! (We will not be passing around the offering bags.)
Our facilities are cleaned and sanitized to CDC and state recommendations before each service.
We are constantly monitoring the COVID-19 situation in our area and are closely adhering to CDC, state and local guidelines to do our part to help prevent the spread of the Coronavirus. Check back here for up-to-date information regarding possible service cancellations. We will be updating this web page frequently as information is made available.
Still Unable to Attend?
Are you unable, or do you still feel unsure about meeting together physically? Check out our weekly experience on our "Sermons" page! Our main Sunday morning service is uploaded each week so you can catch up (or re-listen) right from your own device!